TALS 500 Chest Pack (Guest Review)
by Jonn "Stream Stalker" Graham
There is little doubt that most stream smallmouth anglers pursue their favorite fish by means of wading. In my mind, nothing is more fun than wading knee-deep in a crystal clear, cool smallie stream. While wading is great, there are a few problems that anglers constantly battle. One problem that arises is how does a stream angler carry his or her tackle while trudging up their favorite smallie waterway.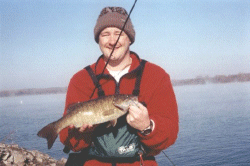 For my sixteen years of heavy-duty stream smallmouth fishing, this problem has been a constant battle. There are numerous options when it comes to tackle storage. Options range from carrying a small tackle box in your pocket to lugging a large tackle bag, thrown over your shoulder. Let me tell you, I have tried them all.
The tackle storage options that I have experimented with in the past have been wrought with various short-comings. For instance, alot of stream anglers like to wear a vest. A vest is a great option, but, for me, the problem with a vest was there were too many pockets. I had a terrible habit of filling every pocket, making the vest so heavy that my back was sore after only a few hours of fishing. Next, I tried a waist pack (some may call it a fanny pack). A waist pack, with fewer pockets, did force me to reduce my tackle load, but with a pack going around my waist, I was constantly wading deep causing my tackle to take a swim. After my tackle taking a drink, I had to make sure upon completing my trip to lay out all of my tackle in order for it to dry and prevent my hooks from rusting. Of course, many times I forgot to dry out my "stash" and as a result I had to throw away countless jig heads and other various stream fishing apparel.
Fortunately, I think my search for the perfect stream tackle-storage system has come to an end. I have discovered a product that, so far, has been the answer to all of my dreams. I think it will also satisfy the needs and desires of other stream anglers.
What is the name of this "do it all" tackle tote?
It is called the TALS 500 CHEST PACK!
The pack was designed and manufactured by Pete Vargo of Watsontown, PA. Pete, who is a die-hard stream smallie angler, and his company, Stycorp Ltd., wanted to design the perfect pack for the stream angler. I believe they have done just that! Now the idea of a chest pack is not new. Fly Fishermen have been using them for years. Though the TALS 500 is a chest pack, that is not what makes it so innovative. No, it is the inside of the pack that really sets this product apart from other chest packs. The TALS 500 zips open and contains various sized plastic tubes. These tubes hold any number of lure types. With most tubes, you would expect that in order to open the tubes you would pull off the end of the tubes. This, of course would be a "pain" while standing knee-deep in a stream. But, with Pete's invention, this is not the case. These tubes are truly innovative!
In order to open and close these tubes, an angler simply needs to turn the ends causing the tube to open in the middle. To fully understand what I am speaking of, you have to see it. You can check out what I am talking about by accessing the TALS website at www.tals-fishing.com.
Now, you might be wondering how these tubes are stored inside the pack. Well, that is another neat aspect of this product. The tubes come with bonded Velcro strips on the back of each tube that display excellent staying power and longevity. The tubes are attached into the pack by simply placing it on the large loop patch. The pack, depending on the size of tubes you prefer, will hold anywhere from four to ten tubes.
Another aspect of this pack that I really appreciate is the fold down work tray that emerges whenever you open the pack. This work tray is held in place by two straps that neatly fold out of the way when the pack is closed. This work tray is sturdy enough to place your rod/reel cross-ways, freeing both hands to reach for tackle or tie a knot. This work tray sure is handy! The work tray portion of the pack also contains straps that are designed to hold pliers, scissors, thermometer, and also is a great way to carry spinnerbaits.
The TALS 500 is also equipped with an outside zipper pouch which comes complete with a stretchy strap that was designed to carry pork jars, but I have found it perfect for carrying extra spinning reel spools. Last but not least, the TALS 500 can be worn three ways. Though it is primarily a chest pack, it can also be worn as a waist pack or a satchel depending on how the angler chooses to rig the shoulder straps.
In conclusion, the TALS 500 is a great product! It is designed with the stream smallmouth angler in mind. I have been using the product religiously for about six months and have found it to be the most efficient way to carry tackle while stream fishing or walking the bank of my favorite lake. I encourage everyone reading this review to at least check out the product. If you decide to purchase a pack, you will not be disappointed!